Level 3 Diploma in Health and Social Care - Student profile
Posted on: 16/08/2021
Erin Year 13 student began her journey as an Aspire student and then joined HPS6F to study Health and Social Care. Erin talks about her time at Harris Professional Skills 6th Form.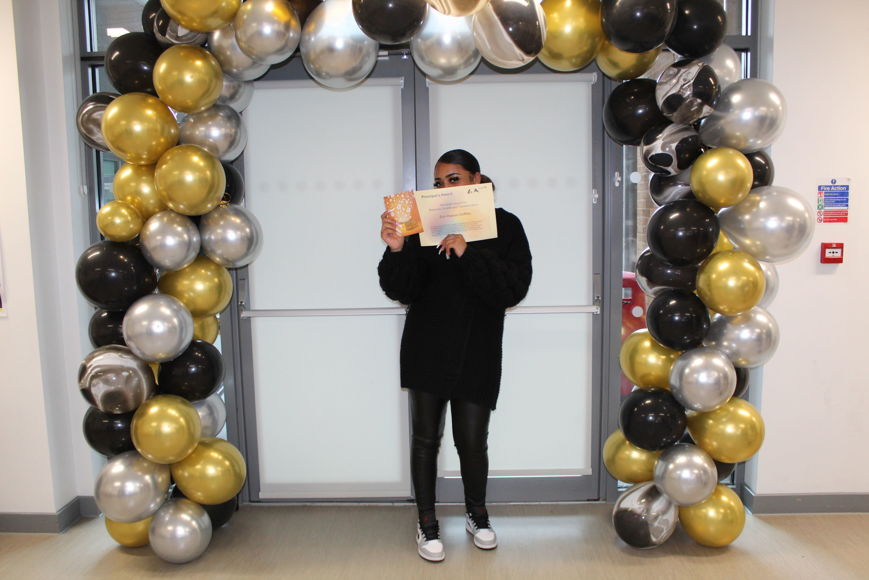 Erin receiving the Principal's Award for Personal Growth and Transformation
Why did you apply to Aspire?
I first came to Aspire because I was struggling with personal problems and was told this was the right setting for me to help me get through.
What have you enjoyed the most whilst studying your course?
The transition from Aspire to Harris Professional Skills 6th Form, made me realise how teachers genuinely care and put all their energy into each student. The teachers especially in Aspire acknowledged that I came to Aspire because I was struggling, therefore they took the time to build a relationship with me. I did not want to come in, but as I moved from an Aspire student to a 6th form student, I was beginning to enjoy being here, making good friends. I joined Student Council where I was able to express myself as well as have had a good education.
Have you had any challenges and how did you overcome them?
My biggest challenge was choosing whether to go to University. I never felt I was capable as I still held onto past negative comments received at my previous school. It took me a long time to overcome these thoughts but was able to with my teachers' support to believe in myself.
How would you encourage a student thinking of applying here? What would you say?
If you are looking for genuine teachers who treat you like a person rather than just a number this is the place to come. Coming to an academy with a small diverse community helped me gain self-confidence and friends for life.
Where would you like to see yourself by the end of the course?
I would like to go to University and become a nurse and I know I will succeed!
What grade did you get?
DMM, I am pleased with the overall grade.
What are your next steps for September?
I will be going to the University of Kingston to study Adult Nursing.